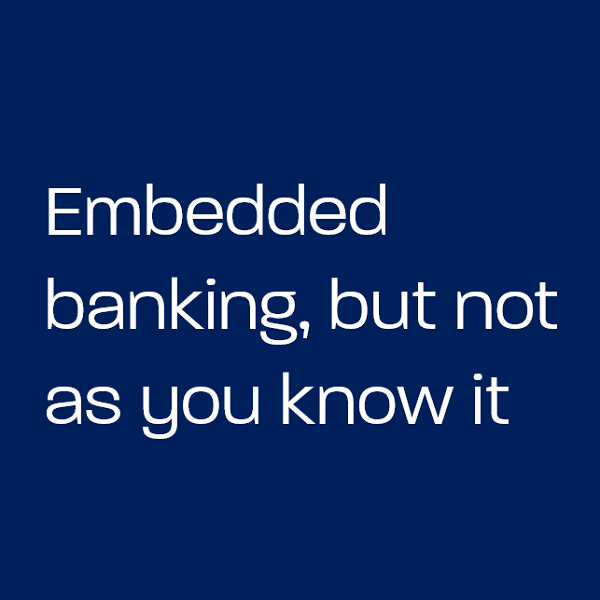 BankiFi lays out Digital Banking 3.0 vision in new whitepaper
Manchester-based embedded finance specialist BankiFi has today gone further than ever in articulating its vision for the future of digital banking through the publication of its informative, new whitepaper, entitled 'Embedded banking but not as you know it'.
Amidst growing uncertainty within the broader fintech market, embedded banking continues to stand out as an area of high growth and opportunity. In the past year, the sector has witnessed a huge uplift in user adoption rates, with companies in the field continuing to receive sizeable investment from some of the world's most reputable venture capital firms. This interest has also generated demand for research around the concept.
In response, BankiFi has published an illuminating whitepaper, which is now available to read for free on its website. Officially launched at Sibos 2022 in Amsterdam, the whitepaper, entitled 'Embedded banking but not as you know it' provides a comprehensive, easy-to-digest history of digitization within the banking industry, from the earliest wave of adoption during the 1990's, all the way to modern day solutions.
As BankiFi's whitepaper explores, banks have recently fallen behind tech-first platforms when it comes to providing customers with convenient access to the digital banking services that they really want, despite the advancements in digitization within the field. Notably, the sector looks to be losing the fight over who, or perhaps what will be considered the 'front door' for the digital services required to run a business – a battle it must find a way to win.
In publishing the whitepaper, BankiFi can offer guidance to those working in, or alongside the sector. The thought-provoking report makes the case that legacy banking institutions are particularly well-suited to meeting the banking needs of small-to-medium sized businesses (SMBs). In fact, as the whitepaper highlights, banking companies already possess all the tools they need to lead in this area.
Speaking on the publication of the new whitepaper, Mark Hartley, Founder and CEO of BankiFi commented: "The road to embedded banking has been long, and winding, but now that it's here there's no reason why banks should be ignoring it. In our whitepaper, we chronicle that journey, highlighting how this innovation is only the latest in the world of digital banking, following a long lineage of technological updates.
"The paper makes it clear how the two worlds of banking and SMB are changing, which has created something of a vacuum across both fields, particularly as it pertains to how digital banking services are delivered. If managed correctly, a wealth of SMB banking opportunities will reopen for legacy banks, including considerable potential for customer acquisition. However, the next few years are going to be make or break, so those who are prepared to embrace change are advised to do so now."
At its core, BankiFi aims to put banks back at the heart of business. The company's technology platform is designed to provide banks with an integrated set of services – accounting, invoicing, and payments – based on the processes that their customers use to run businesses. Built with usability in mind, BankiFi's platform allows SMB owners to focus on what they do best, which is running their business.
Similarly, by onboarding BankiFi's platform, banks can reimagine their value proposition on the digital front, shifting to a more customer-centric approach and away from the product-centric approach that has dominated the sector for years. This move can help banking businesses to improve levels of customer engagement, while simultaneously increasing revenues and reducing operational costs.
To read BankiFi's new whitepaper, please visit: www.bankifi.com/embedded-banking-not-as-you-know-it