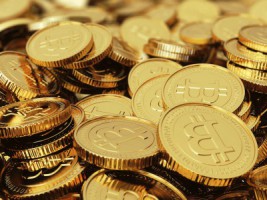 Bitcoin lures as investors fret over uncertain markets
Investors appear to be increasingly turning towards bitcoins, rather than gold, as the best way to protect themselves against unpredictable financial markets.

Worries that the US Federal Reserve could make good on its threat to raise interest rates before the end of the year pushed gold to a three-week low overnight, with the price of the precious metal dropping 2.4 per cent to $US1,147.30 a troy ounce.

Although the Fed kept interest rates close to zero at this week's meeting, it flagged the possibility of a rate rise in December, and this triggered a rise both in US dollar and US bond yields – both of which are negatives for the gold price. (A stronger US dollar makes gold more expensive for foreign buyers, while higher yields make gold, which makes no interest, less attractive).

In contrast, the bitcoin price climbed 2.7 per cent to close at $US312.08 ($441) overnight, according to the US bitcoin exchange CoinDesk. Earlier this week, the price of the digital currency climbed above $US300 for the first time since July, when worries that Greece could be on the verge of quitting the eurozone sparked increased a flurry of buying.
Source: Bitcoin lures as investors fret over uncertain markets | afr.com