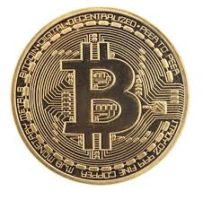 Brexit: Bitcoin surges in wake of Out vote
One of the few winners from Britain's shock decision to exit the European Union on Friday was the virtual currency bitcoin, which rose more than 7 per cent as investors flocked to what they perceived a safe haven asset.

Bitcoin jumped above $US670 after the vote, according to data from CoinDesk, prompting analysts to label it "digital gold" – a reference to gold's historic status as a haven from financial turmoil.

Over the past month, the virtual currency has been buffeted by changing sentiment around the vote, rising more than 70 per cent as the Brexit camp gained momentum before being sold off in recent days when it appeared Britons would choose to stay in the European Union.

On Friday, once the exit vote became clear, bitcoin rallied.

"These are scary times and bitcoin is a hedge," said Zennon Kapron, founder of financial technology consultancy Kapronasia, who has written a book on the virtual currency.

"People didn't expect this result and the market under-planned for it. A lot of people view bitcoin as another way to diversify from the major currencies."

Kapron pointed out that bitcoin also rallied around this time last year when the market was contemplating the fallout from a Greek withdrawal from the eurozone.

"I wouldn't be surprised if bitcoin goes above $US1000 as people wake up and start to realise what the options are," he said.

Bitcoin was launched in 2009 as a new type of payment system. It is different from traditional currencies because it isn't reliant on a central monetary authority for its issuance. Rather it is underpinned by a peer-to-peer computer network and bitcoins are created by solving complex mathematical equations to verify the currency exchange, a process called "mining".

China dominates trading in bitcoin, with most trades being done in yuan.
To read more please click link below…
Source: Brexit: Bitcoin surges in wake of Out vote | afr.com