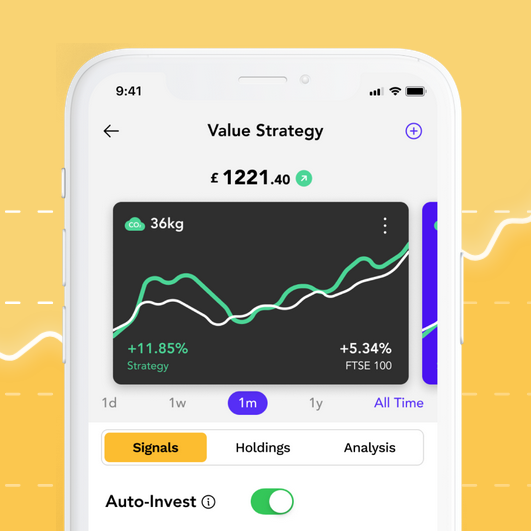 Investment strategy platform Stratiphy levels investment playing field with new app launch
Investment strategy platform Stratiphy has announced the launch of its new investment application on the Apple App Store and Google Play. The solution provides users with bespoke investment strategies and insights, democratising access to the approach of professional investors.
In bringing its solution to market, Stratiphy is breaking new ground in the world of retail investment. The company's application simplifies systematic investing strategies, providing users with easy access to bespoke data-driven insights and analytics. Leveraging powerful algorithms, the new solution provides users with capabilities that had previously been reserved for financial professionals and investment banks. 
The service offers users customised investment strategies, with the ability to determine a wide range of parameters such as: risk level, performance, sectors, regions and ESG.  Unlike other model portfolio solutions, which often take a 'one-size fits all' approach, Stratiphy offers personalised investment signals. In turn, this enables users to benefit from sophisticated portfolio construction and effective risk management protocols tailored to their criteria, and generated according to industry-leading practices.
Stratiphy gives individuals the tools to make more informed and risk-aligned investment decisions by continuously monitoring and analysing millions of data points. The company has also greatly simplified this process by taking a 'no code' approach. As a result, Stratiphy stands out as an ideal system for the rapidly growing number of retail investors starting out on their investment journey.
In fact, the type of systematic investment algorithms offered through Stratiphy are routinely used by the world's best-performing hedge funds and banks. As such, the solution can help end-users by using the same techniques as professionals to build risk-adjusted portfolios for long-term wealth generation.
What's more, Stratiphy's new application will also provide users with valuable insights into ESG and sustainability data. In doing so, the company is helping to facilitate much needed impact investment into more sustainable businesses at a moment of intense need. To this end, Stratiphy's novel approach to investment strategies is highlighting the powerful role that financial services can play in providing a solution to greener practices.
Speaking on the launch of the new application, Daniel Gold, Founder at Stratiphy, commented, "Doing high-quality, consistent research on investments is difficult and time-consuming. That's why Stratiphy gives people tools to base their investment decisions on tried and tested principles, leveraging some of the most powerful systematic investment strategies on the market in the process."
"What makes Stratiphy stand out in particular is our approach and mindset; we have a strong focus on effective risk management and sustainable wealth generation."
"We're delighted to finally give everyday investors access to insights and analytics, which were previously the preserve of professional investors and industry insiders. Our application is helping to level the playing field by democratising access to sophisticated investing techniques.
Prior to the launch of its solution on the Apple App Store and Google Play Store, Stratiphy had amassed a product waiting list of more than 2,500 people. Additionally, the company's innovative solution is currently undergoing beta trials at five universities. Moving forward, the company plans to continue raising capital to support its exciting growth journey and looks set to make further product announcements in the coming months.