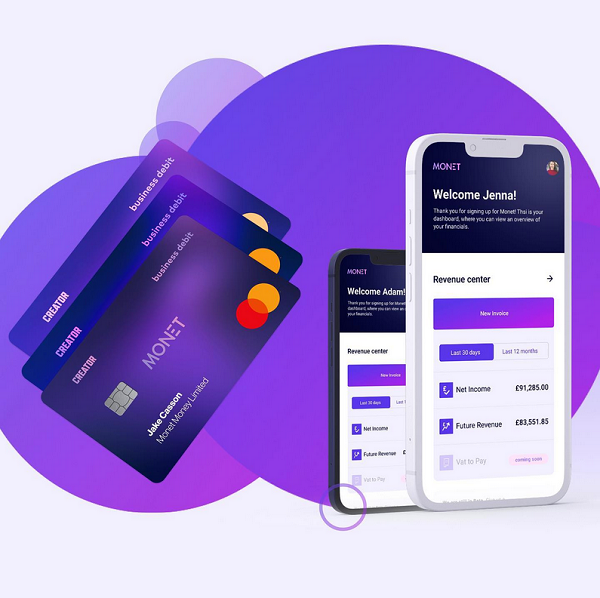 MONET launches world first finance platform for creators, powered by Weavr
London-based revenue management fintech MONET have announced the beta launch of its revenue-based lending platform with dedicated Creator Business debit cards and accounts for creators, providing infrastructure that is a world-first in its field. The platform is facilitated by embedded finance specialist Weavr, using their technology to provide business banking and payments infrastructure.
The revolutionary platform for creator businesses smoothens cash-flow and offers unique business tools to manage multi-stream income from the likes of brand deals and platform earnings, offering the potential to drive powerful financial inclusion for those charging into the future of work.
MONET's e-money proposition is powered by embedded-finance specialist Weavr's innovative Plug-and-Play Finance solution, allowing users to access bank accounts and manage payments directly within the app.
The launch hails a significant step forward in supporting the creator economy with financial technology. Creator businesses can now say goodbye to chasing payments or needing to pace their creation roadmap in line with when they are paid for completed work. Instead, MONET's platform pays creators upfront on what they are owed from brand deals and platform earnings, pushing funds directly into the creator's dedicated MONET current account, where they also get the benefit of 1% cashback on all business spending.
Over 300 creator businesses joined the beta launch in the first month and over 7.5k creative businesses are awaiting an invite from the waitlist. MONET also provides creator marketing platforms with the opportunity to facilitate embedded cashflow finance for their users using MONET's technology. These businesses are mostly creatives with multi-stream income and business activities – such as course creators, models, musicians, influencers, streamers, gamers and some members of the wider highly skilled freelancer economy who have side-stepped into online activities.
Having identified the need to build a finance and business hub that encompasses all revenue sources for creators, MONET's first feature product, EarlyPay, allows users to have invoices and platform revenue instantly advanced into their MONET account by insuring the owed funds as part of the secured-lending process. The relationship with Weavr provides MONET with the building blocks to provide further financial and revenue-growth tools to its users at a later date.
Jake Casson, Founder of MONET, said, "There are so many highly driven and maturing businesses within the space who are either excluded or mismatched from wider SME finance and business infrastructure. On top of this, the economy has seen a wave of creation tools emerge over the last few years, but not so much in terms of revenue management. So we're very proud to be offering truly useful finance and business tools that help more creators grow powerful businesses from their passions and skills.
There is no doubt as to the growth of this economy, and the potential of the middle-class and side-hustle businesses within it. To put this into an example, we're seeing bankers leaving high paid jobs to create content, courses, merch and other online businesses based on their experiences. Entrepreneurial professionals and creatives are unbundling from corporate life and we're here to help stabilise and power up the shift – starting with cash-flow support and revenue management which is all powered by specialist banking infrastructure."
Casson continued, "With the help of our partners at Weavr, we've been able to get to market with verticalized banking much quicker than we initially anticipated. Weavr has given us a cost-effective BaaS solution to bring MONET to life for UK creators in a safe and, regulatory compliant manner."
Alex Mifsud, Co-Founder at Weavr, added, "Our aim is to empower innovators and disruptors everywhere. Embedded finance solutions are increasingly powering the digital applications we are all relying on in our lives, from transport and education, to housing and the future of work."
"Jake's plans for MONET are a much-needed solution for creators to realise their earning potential, serving the increasing number of individuals making a living as creators. I am thrilled that Jake and the MONET team have chosen Weavr embedded finance toolset to build a service that helps creators succeed."