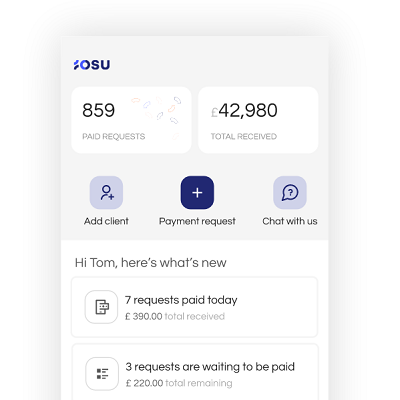 Payment app Osu raises £2.25m seed round from fintech angels
Osu, a new instant payments app aimed at helping the UK's four million self-employed has raised £2.25m seed round.

The funding comes from a round led by Creandum with cash also from Ada Ventures, Breega and prolific angel investors including Charles Delingpole, CEO of ComplyAdvantage, Will Neale of Grabyo and Michael Pennington of Gumtree.

Launched in 2020 by co-founders Noam Nevo, Daniel Scott and Alon Zion, Osu says it has 1,000 people using its app with plans to grow ten-fold in 2021.

Users send a payment request by entering their customer's name, phone number, and the amount owed. The customer receives an SMS and pays by clicking a link, selecting their bank, and then approving the payment instantly within their own banking app.

Osu does not charge no transaction fees but rather monetises through subscriptions. Users receive a 30-day free trial after which it offers three monthly plans of £4.99 (Lite), £9.99 (Standard), or £19.99 (Pro).

Noam Nevo, co-founder and CEO of Osu, says the app is designed to be a "payment PA" for the self-employed by automating tasks such as sending invoices, accepting payments, chasing customers.
To read more, please click on the link below…
Source: Payment app Osu raises £2.25m seed round from fintech angels – AltFi