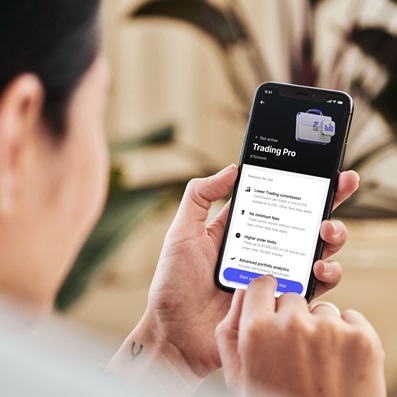 Revolut introduces Trading Pro: a powerful set of tools for advanced traders
Revolut
, the financial super app with more than 35 million customers worldwide, and more than 2.5 million customers in Ireland, introduces Trading Pro — a powerful set of tools and insights for advanced traders designed to enhance their trading experience. The new subscription is provided by
Revolut
Securities Europe UAB and can be added on top of existing Revolut plans (except for Ultra plan which includes Trading Pro free of charge).
With Trading Pro, active investors can now benefit from discounted commission fees at just 0.12% (down from 0.25%) for trades exceeding the current
Revolut
plan free trades allowance and no minimum country-based fee. Other fees may apply.
Trading Pro also provides access to higher order limits on US and EEA stocks and Exchange Traded Funds (ETFs): from $10,000 to $1,500,000 per order on US stocks and €1,500,000 for EEA stocks and ETFs, with the maximum of 50,000 shares per trade.
For data-driven decisions Trading Pro users can access advanced portfolio analytics, including performance benchmarking, realised profit & loss tracking, and portfolio allocation, etc.
Trading Pro also comes with a desktop
Trading Terminal
, where active traders can set up custom workspaces, monitor market trends, and execute trades efficiently, all within a single screen, for the ultimate desktop experience.
Rolandas Juteika, Head of Wealth and Trading (EEA), "Trading Pro is tailored to meet the specific needs of advanced traders, offering them a set of tools designed to enhance their trading capabilities. We see an increasing customer base with higher portfolio values using Revolut for bigger trades, with the need of deeper portfolio analytics and desktop tools. Trading Pro is here to solve these problems. We continue working on opening a wealth and trading space for a wider customer range with a robo-advisor service, mutual funds and bonds being next on our list."
The new Trading Pro subscription plan is now available in the EEA region for a 15 EUR monthly fee, with a free trial for the first month. Only users who have a trading account can upgrade to a Trading Pro subscription via the Revolut app.
For all users Revolut has also introduced extended market hours trading for US stocks. To provide customers with more flexibility, Revolut has extended US stock trading availability from 6.5 hours to 16 hours per day. Revolut users are now able to trade between 8am GMT – midnight GMT. Only limit orders and whole shares trading will be available during the extended market hours. Extended market hours are subject to additional or higher risks compared to regular hours trading. Customers should review the relevant risks in Revolut's risk description document available on its website prior to making any investment decision.
In October Revolut launched its biggest update yet – Revolut 10, with a significant overhaul of the design and layout of the app, built to make everyday money management as easy as possible, with special focus on those who increasingly use the app as their primary bank account. Key Revolut products and features are now quickly accessible from the home screen, while tools to build wealth, explore saving and investing, and make the most of lifestyle services and offers are available in just one tap.
Revolut offers customers access to more than 2200 US-traded companies, 70+ European-listed stocks and over 150 ETFs via the Revolut app. Investment services in the EEA are provided by Revolut Securities Europe UAB.