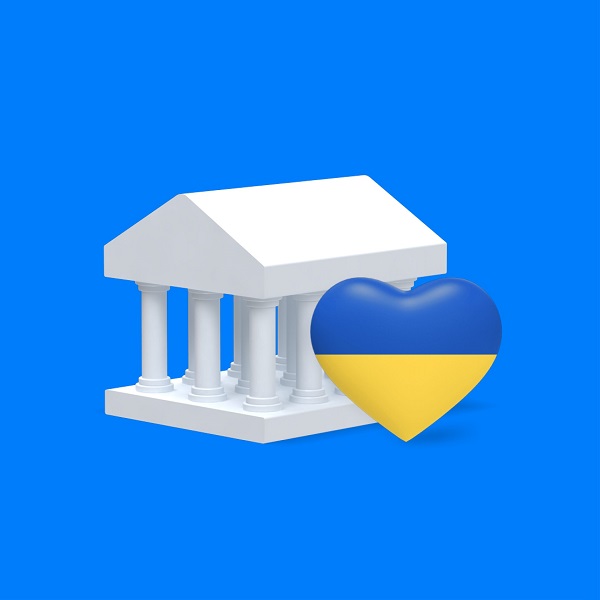 Revolut to offer payment services to Ukrainian refugees displaced by the invasion
Revolut, the global financial superapp with over 18 million customers worldwide, is offering payment services to all refugees, regardless of nationality, fleeing Ukraine following the Russian invasion.
To ensure individuals displaced by the invasion have quick and easy access to their money, Revolut has eased many of the requirements needed to set up an account as well as a number of FX and top up fees.
Over two million refugees have already crossed Ukraine's borders seeking safety, many with limited possessions and documentation. In order to purchase the basic necessities, quick and easy access to money has become imperative for thousands of families. Revolut is enabling those who have crossed its borders to access their money by linking the app to their Ukrainian bank account, opening a corridor to facilitate access to money. Revolut is offering payment services to anyone fleeing Ukraine, providing access to additional currencies and savings mechanisms.
The standard account has no monthly fee and can be used to send/receive money as well as exchange currency. The Revolut card will be allowed to be used anywhere in the EEA and Ukraine, with a limit of €1,500 a day via outbound bank transfer and Revolut peer-to-peer. Friends and relatives already in Europe will also be able to transfer money to them quickly and securely. Standard plan fair usage limits apply.
Setting up an e-money account in the EEA typically requires proof of a right to reside in Europe. With many of those displaced by the invasion unable to provide this due to a lack of documentation, Revolut has eased this requirement to ensure as many refugees as possible can set up an account quickly and access their funds. Although the access to accounts has been eased, Revolut has put in place all the necessary measures, through a dedicated team, to ensure that the regulatory requirements are properly followed and satisfied.
Once their Revolut account is set up, those fleeing Ukraine will be able to link any Ukrainian bank card with their Revolut account and can then immediately begin topping up their account in a variety of currencies. To support this initiative, Revolut is also waiving a number of FX transfer fees to ensure there are no additional charges for individuals displaced by the invasion exchanging their Ukrainian Hryvnia into another currency.
Vlad Yatsenko, Co-Founder and CTO of Revolut said, "With the war in Ukraine displacing more than two million people already, we felt it was imperative to help those most affected by providing a service that gives them easy, quick access to their money. Bank transfers are often slow and expensive so we hope this Revolut initiative provides a simpler alternative. I am immensely proud to be part of a British fintech that can quickly help the Ukrainian people in their time of need."
If you have been displaced by the invasion, see here for instructions on how to open an account:
Download the Revolut mobile application

Click "Sign up" and provide the phone number you are currently using. It can be any phone number, including your Ukrainian phone number, as long as you can receive SMS on this number

Select the country you are currently in as your country of residence, e.g. Poland or Slovakia

Provide your current address outside Ukraine, e.g. address of the shelter, and fill out your personal information

Confirm your identity by selecting and uploading your Ukrainian passport* or identity card, as these are the documents that allow Ukrainian refugees to open an account
*If you are of another nationality coming from Ukraine, you will need to follow the same steps and upload your passport as well as your Ukrainian visa.
Revolut application is available in English and other European languages. We are working hard to add Ukrainian language to the application soon. For further information, see FAQs.
Important links:
Link to Revolut's CEO Nik Storonsky's response to the war in Ukraine: https://blog.revolut.com/a-personal-letter-from-our-ceo/
Link to Revolut's response to the situation in Ukraine: https://blog.revolut.com/the-war-on-ukraine-our-response/
Link to Donations page: https://www.revolut.com/donate-money