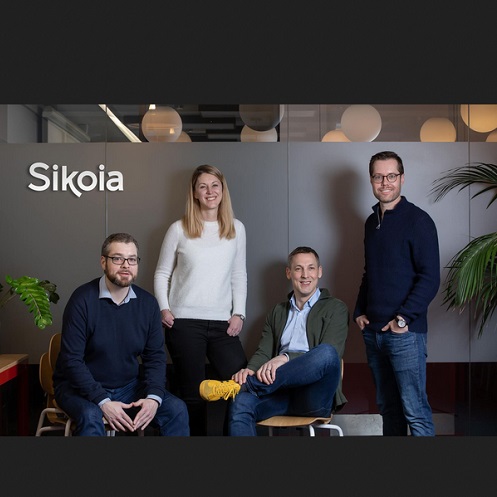 UK Fintech Sikoia secures $6m in seed funding
Global venture capital firm MassMutual Ventures (MMV) leads the round, with participation from Coalition Capital and existing investors Earlybird and Seedcamp doubling-down
Sikoia is also backed by business angels from leading Fintech companies, including Naspers, Tide, Moss, WorldRemit, Wefox, ComplyAdvantage and Auxmoney
Sikoia is a Unified Data Platform (UDP) that simplifies the process of onboarding and evaluating counterparties by aggregating information from a multitude of private and public data sources
London-based Fintech Sikoia has successfully raised $6m in seed funding, bringing its total capital raised to over $8.3m, including a pre-seed round from the previous year. This milestone caps an exceptional year for Sikoia, which saw the company grow its international client list, make key senior hires, and generate strong momentum across credit and lending, payments, and international e-commerce.
Sikoia is a category-defining Unified Data Platform (UDP) that centralises client financial and identity data to simplify onboarding and verification, monitoring, and risk evaluation. It is accessible through the Sikoia portal, an intuitive 360° Customer dashboard and decisioning tool for risk and compliance teams, or a comprehensive suite of APIs for developers. Sikoia's UDP includes access to a growing marketplace of international data partners and compliance services, including credit bureaus, public registries, identity verification, fraud screening, AML screening, and more. Their customers can choose to use their existing providers or expand their capabilities with ready-to-go, turnkey agreements.
Regulated businesses and financial institutions in particular have to manually collect, validate, and verify customer information across siloed sources. This can be time-consuming, costly, and prone to errors – often leading to delays in onboarding new customers and increasing the risk of fraud.
"Besides assessing consumers applying for financial products, many Sikoia customers also onboard and verify international business clients," said Alexis Rog, Sikoia's CEO. "They need to assess information from multiple public and private data sources, covering the corporate entity itself as well as the directors, shareholders and associated entities. This often results in poor customer experience and unnecessary operational costs."
The round was led by MassMutual Ventures, a global venture capital firm with over $1bn AUM, with participation from Coalition Capital and existing investors Earlybird and Seedcamp following-on. Ryan Collins, MMV managing partner, said, "Sikoia's platform is set to transform financial institutions' client management throughout the lifecycle – especially onboarding, underwriting and ongoing monitoring – streamlining risk and compliance processes, and measurably improving financial performance. Sikoia's extensive identity and financial data coverage is well-suited to complement and enhance our own business verification efforts. We are delighted to bring Sikoia to the MassMutual Ventures ecosystem. "
"Last year has been an exciting and transformative year for us. We scaled up the team, expanded our platform capabilities, and supported our ever-growing list of customers and marketplace partners. We're excited to continue delivering on our ambitious targets for 2023 and beyond," said Sikoia CEO, Alexis Rog. "This capital will help Sikoia accelerate our international expansion, deliver further data coverage and workflow automation, and develop unique technology to help our clients deliver exceptional client experiences."