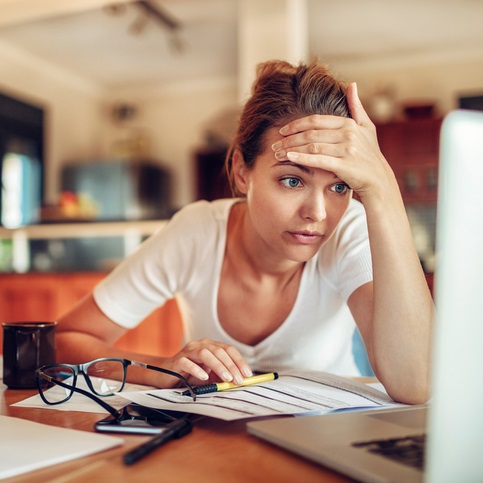 UK overdraft usage increases by 7.1% as cost-of-living crisis bites: Clearscore
New data from credit marketplace ClearScore reveals rising dependence on overdraft facilities, as household finances come under pressure from spiralling inflation.
According to the data, powered by open banking technology and based on 20,000 UK bank accounts, overdraft usage has increased by 7.1% since August 2021. Additional consumer research conducted with 2,000 people suggests that this trend could continue into the new year. One in four (25%) say they are likely to continue relying more on their overdrafts in the coming six months.
ClearScore's open banking figures also show the impact of rising inflation on household expenditure. Essential spend – defined as groceries, bills, fuel and rent, for example – has increased by 25% since August 2021, yet wage growth is lagging behind over the same period at just 10%. As a result, essential spend as a proportion of income has risen by 6% as prices rise and income fails to keep up.
These findings come as household finances continue to be squeezed, with many people highlighting concerns about the months to come. Over half (52%) of those surveyed by ClearScore say they are concerned about their financial situation over the next six months, with nearly one in four (23%) who say they are not confident about the security of their job, not confident about their ability to pay their mortgage or rent (24%) or household bills (27%).
Brits make changes to mitigate rising costs  
As the cost-of-living crisis continues, more people are taking precautions to mitigate its impact. According to the research, many people are also planning other ways to navigate the coming months. This includes consolidating existing debt (30%), paying off existing debt (46%) and dipping into savings to pay for day-to-day expenses (43%).
Table 1: Percentage of people planning to make changes to mitigate the rising cost of living
| | |
| --- | --- |
| Action | Percentage of people planning to do so in next six months |
| Consolidate existing debt | 30% |
| Pay off existing debt | 46% |
| Dip into savings to pay for day-to-day expenses | 43% |
| Look for additional sources of income | 37% |
| Cancel subscriptions | 43% |
| Cut back on non-essential spending | 63% |
| Delay or cut back on big purchases | 55% |
| Cut back on putting money into savings/investments | 51% |
Source: ClearScore via Opinium, November 2022
Justin Basini, CEO and Co-Founder of ClearScore, commented, "Understandably, many more of us are dipping into our overdrafts and using credit generally as the cost of living continues to rise and our income doesn't stretch as far as it did before. With Christmas approaching and energy bills causing ongoing concern, this trend looks set to continue.
"Encouragingly, however, many people do seem to be balancing this greater dependence with action to cut costs where they can, to make their money go further. Looking for small, simple changes – such as consolidating debt or cutting back where you can – will be hugely important to keep problem debt to a minimum this new year."