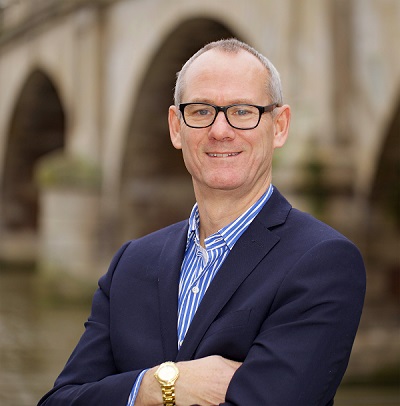 Building societies and fintech: A powerful combination for community finances
Written By Jerry Young (pictured), CEO, ieDigital.
Building societies are often seen as much more community-focused than their banking counterparts.
They are often "local" to the geographical area that they serve, sometimes with just a handful of branches covering a specific patch, and their customers may be referred to as "members". Indeed, nearly three quarters of members agree that building societies are fully-fledged pillars of the community, significantly higher than the 52% of major bank customers that think this is the case.
This community approach is one that works. Building societies have total assets of nearly £500 billion, with residential mortgage balances of over £366 billion – equating to 23% of all outstanding mortgages in the UK. They also hold over £342 billion of retail deposits – 18% of all such deposits in the UK.
Against such an important backdrop, and with the 2023 UK Building Societies' Annual Conference taking place this week, on the 3rd and 4th of May, let's take a closer look at how building societies can further cement their place in the community as trusted providers for the future.
Building a more cohesive offering
Rising living costs, climbing interest rates, booming house prices, and other factors are making people more aware of how they spend, save, and invest.
More than ever, customers are looking to their financial services providers to deliver simpler ways to maintain visibility of their accounts and manage their money. And they're looking for extras along the way too. Creating a more cohesive offering will also give building societies the opportunity to tailor their services more closely to the communities they serve. If they serve a lot of small business owners, for example, a building society could boost its product range with digital accounting features on top of standard offerings.
Growing digitalisation in the sector is helping broaden their appeal—and advances in AI such as conversational chat and virtual assistants can go a long way to replicating that much-valued branch experience in a digital context.
And beyond mobile apps and SMS reminders, building societies can embrace technology to extend and enhance the financial products they offer, providing customers with a more complete, meaningful experience.
For example, using AI to offer personalised advice on how to save for a house deposit could engage a first-time buyer earlier in their home ownership journey. Then, when they're ready to buy, letting them book a video call or a face-to-face conversation with an in-house mortgage advisor can cement them as a lifetime customer—and help them feel supported long term. It's that multichannel digital experience with the all-important human element.
A truly cohesive offering expands beyond just the building society itself. Especially with the growth of open banking, customers are looking for more connected financial services to simplify their everyday lives as well as their money. In some cases, that can mean consolidating information and services into a single platform. Rather than, for example, keeping their savings with one building society, taking out a mortgage with another and managing them separately, customers increasingly want to centralise their finances.
In more advanced cases, connecting with external services can help customers take tighter control of their money, wherever they use it. With embedded financial services, building societies can collaborate with other sectors—such as online retailers—to offer seamless integration between their services. For example, 3 in 5 UK adults have reported using embedded financial services during checkout on a purchase, including paying with an e-wallet, choosing a Buy Now, Pay Later service, or electing to round up their total with a charity donation.
Safeguarding community access
The past few years have seen a growing number of bank branches close their doors, and that means the ones left are more valuable than ever. Building societies and credit unions are often more embedded in their communities than their banking counterparts—and amping up that physical presence can help make the most of that local advantage.
For older customers, people with complex queries, and those with limited access to digital channels, a face-to-face interaction can be a lifeline when they're dealing with financial transactions or concerns. In response, campaigners have started opening shared banking hubs across the UK to preserve access to offline banking services, face-to-face support, and cash withdrawal.
As well as offering these more traditional services, a banking hub is the ideal place for building societies to offer digital support to customers that can't access online services at home. Something as simple as providing a space with a reliable internet connection can mean all the difference for some members. And having advisors on hand to guide them through the signup process and offer real-time advice on how to use systems can ensure a building society's diverse membership can access the full range of services available.
Going above and beyond customers' transactional needs is vital too, both to stand apart from competitors and give customers the level of support and experience they're looking for when they arrive at a branch. Hosting digital skills classes, drop-in advice sessions, or even specific community events can offer yet more value, creating a hub where customers know they can seek support—whatever their need.
Supporting charities in the community
Many building societies and credit unions already provide monetary support for charities, but closer collaboration could make a major difference in an environment where organisations and individuals alike are tightening their belts.
Charities have reported receiving significantly fewer cash donations in recent years. This is partially due to the rising cost of living making people more hesitant to donate, but there's another, much simpler cause: many people no longer carry cash.
Cash has been on the decline for years, accelerated by the pandemic as people avoided physical transactions. According to UK Finance, just 6% of payments will be made in cash by 2031, which means all organisations will become almost totally reliant on digital transactions, including charities.
However, digital transformation is proving tricky in the third sector, often due to limited budget and skills, and this is making it difficult to adapt to the cashless trend and other changes. Research shows that 40% of charities don't have a defined digital strategy, which won't be sustainable long term; large charities will have the resources to advance, but many smaller organisations will struggle.
Building societies and credit unions are perfectly placed to partner with local charities, prioritising causes that mean the most to the communities around them. They can help charities adopt new, more modern ways of receiving donations, from contactless devices and QR codes to open banking-enabled transactions. Increasingly, customers are drawn to financial services providers that align with their own values—and working directly with charities is the ideal way to demonstrate that.
Conclusion
Building societies and credit unions have been a vital component of the UK's financial landscape for hundreds of years, and nearly three quarters of their members agree that they're pillars of the community.
With millions of people relying on their services, now is the time to make the most of their role in the community and ensure that the all-important human connection remains part and parcel of their financial services offering for ever more.