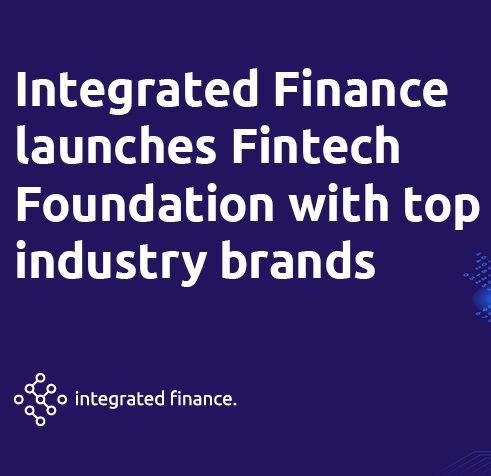 Integrated Finance launches 'Fintech Foundation' with top industry brands
Fintech infrastructure provider, Integrated Finance has announced the launch of its 'Fintech Foundation' incubator. The new programme will be supported by experts from leading banking service providers across the value chain, including Mastercard, Currencycloud and Enfuce.
The 'Fintech Foundation' will offer emerging Fintech businesses the support they need to take the next step in their growth journey. Working alongside its partners, Integrated Finance will provide businesses who are accepted to the programme with the guidance required to take a solution from ideation to launch, as well as offering access to best-in-class providers, and the technologies needed to build a truly scalable business. The programme is designed to ensure more innovative Fintech businesses get to market and improve the provision of financial services globally.
The unique programme, which will operate for 12 weeks beginning in January 2023 will feature multiple participants from across the Fintech sector. The incubator will provide businesses with all the support they need to bring their ideas to market. In addition, participants can attend workshops led by the incubator's partners and will gain access to one-to-one support from experts across subjects crucial to business success, including the importance of user experience, funding, regulations, and compliance, as well as foreign exchange and revenue optimisation.
Speaking on the launch, Alistair Cotton, CEO, and co-founder of Integrated Finance commented, "We're delighted to launch our 'Fintech Foundation', led by the programme's head, Amar Kotak. The incubator will deliver the knowledge that some businesses may currently lack, enabling our participants to build effective proof of concepts, facilitate live transactions for customers, and to stand out as attractive investments for venture capital businesses in a moment of sector uncertainty. To do this, our focus is on helping companies who can demonstrate true customer demand for their product, as well as an ability to scale."
By emphasising the importance of scalability and customer demand, Integrated Finance's 'Fintech Foundation' is different from many incubators of the past. Leveraging its ability to provide Fintech startups with a relevant core banking stack and bring Fintech providers from different verticals together, Integrated Finance has removed many of the common pitfalls associated with stalled launches and has instead designed an incubator that enables Fintechs to take their offering to the next level. More importantly, startups won't need to struggle with the underlying technology that would typically take many months to build.
Derren Powell, Vice President, Fintech, and EMI – Business Development at Mastercard commented, "Mastercard believes in the power of collaboration and partnerships, especially within the Fintech sector. We recognise that Integrated Finance's Fintech Foundation programme will be complemented by our wide array of services and expertise, and that could bring us closer to new businesses at the cutting-edge of the industry. The programme will deliver the education, insights and due access needed by companies across the sector. In doing this, the incubator provides the necessary infrastructure to make Fintechs easier to build and scale."
Richard Stockley, Director of Partnerships at Currencycloud commented, "Currencycloud has worked alongside Integrated Finance since shortly after its launch, and during that period, we've always felt a shared connection with the company's values and outlook. So, when we heard about its Fintech Foundation incubator, we were excited to get involved. With our support, Fintech startups on the programme can quickly develop and implement scalable cross-border and FX solutions as part of their product offering, enabling more cost- and time-effective go-to-market strategies. The programme really emphasises the true importance of collaboration, which is so important to us."
Denise Johansson, Co-CEO at Enfuce commented, "With Integrated Finance's Fintech Foundation programme, we saw an amazing opportunity to help other Fintechs who want to grow and scale. The incubator programme has been designed to help founders develop their companies from the ideation stage, all the way to fully-fledged business propositions centred around solid unit economics, and deep revenue streams. As such, this program has the potential to be a real game changer in the world of Fintech. We look forward to leveraging our expertise alongside Integrated Finance and the other involved partners to generate some tremendous results.
In total, Integrated Finance's 'Fintech Foundation' will be supported by nine partners from across the Fintech sector and beyond. In addition to the aforementioned businesses, the incubator will be backed by venture capital firms, including Octopus Ventures, 500 Global, and SuperSeed, as well as Fintech providers like ComplyAdvantage, SumSub, Fintech Alliance and many others. At the end of the programme, which is expected in April 2023, incubator participants will have an opportunity to pitch their learnings, traction and future plans to the programme's partners and investors.