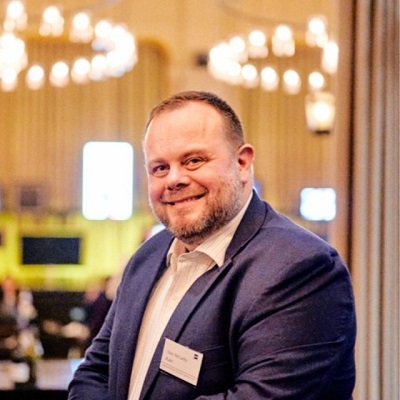 Kani Payments appoints Marc McCarthy as its new Chief Commercial Officer as profits double
UK fintech company Kani Payments, the global data reconciliation and reporting platform, have appointed Marc McCarthy (pictured) as its new Chief Commercial Officer, following an exceptionally strong growth phase for the company, which saw them double profits in 2022. McCarthy's appointment is another significant hire for Kani Payments after it appointed Dan Clappison as Chief Operating Officer in late 2022.
McCarthy brings extensive strategic experience in payments, data reporting, and reconciliation to his new role at Kani Payments, having worked in a variety of senior financial and commercial roles across multiple territories including Switzerland, the Netherlands, Singapore, and Australia for Deutsche Bank, Credit Suisse, Jeffrey's International, ING Bank, Westpac Group and Standard Chartered Bank. Most recently, he was Senior Vice President of International Sales for AutoRek.
McCarthy's key responsibilities will include overseeing the expansion of Kani Payments into the US and Asian markets. As well as identifying new key territories for Kani Payments' award-winning SaaS data reporting and reconciliation platform, which so far has processed over €15 billion (£13 billion) in transaction volume for its clients. In addition, McCarthy will join Aaron Holmes, CEO, Melissa Beckett, CMO, Dan Clappison, COO, and Steven Licciardi, CTO, as the new senior leadership team, who together will focus on driving business and talent growth for Kani Payments throughout 2023 and beyond, and positioning it as "the fintech for fintechs".
As CCO, Marc will leverage his experience of building internationally focused teams and incisive business plans, coordinating multiple workstreams, and developing and implementing Kani Payments' ambitious go-to-market strategy.
Kani Payments has enjoyed stellar growth since its launch in 2018, and Marc McCarthy's appointment will be vital as it continues to capitalise on its success, scale, up and expand globally from its home in Newcastle. The appointment of McCarthy will be instrumental in widening Kani's product range and increasing its market share, as more organisations seek to streamline and enhance their data integrity, meet regulatory compliance obligations and unlock new business intelligence insights.
Commenting on his appointment, Marc McCarthy said, "Having the right balance of technology and expertise is paramount for success, and I feel I have found that combination at Kani Payments. I have always believed there was a disconnect between technology innovation and explaining those benefits in tangible ways that customers can understand. There have always been lots of good technical experts and financial control people out there, but they don't often speak each other's language. Kani Payments has identified that problem and created a solution to fix it. It shows insightfulness and an understanding of synergies that other companies don't get. There are lot of generic products, but Kani Payments' software is a purpose-built solution born out of fintech for fintech, versus generic software that has been slightly changed to fit.
"This is a pivotal time for this exciting company as it capitalises on its growth. Being chosen as one of only eight companies in 2022 to participate in the Mastercard Start Path Global programme, beating off 1,500 other companies demonstrates the potential of the platform. Kani Payments is looking to grow at exponential rates and facilitating this is going to be my core focus, as we continue to bring automation, accuracy and compliance to payments reconciliation and reporting to more fintechs, acquirers and financial institutions worldwide."
Aaron Holmes, CEO of Kani Payments added, "Marc's appointment signals a new era for Kani Payments. Our senior management team brings a wealth of real-world experience and expertise which will support and drive our global expansion plans. Marc understands our customers as he has worked on their side of the fence, and he comprehends the power of our technology as a business case. Kani Payments' platform drives compliance, safeguarding and business efficiencies with accuracy, and reporting in meaningful ways which has never been more important as companies seek to maximise the value of their data. We have ambitious targets and Marc will help get us to where we want to be in this next iteration of our business."