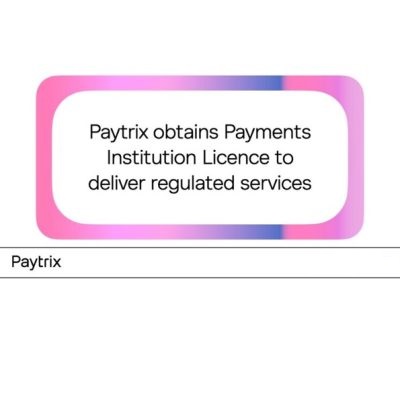 Paytrix obtains Payments Institution Licence to deliver regulated services
Payments curation service enabling UK businesses to scale globally with foreign exchange, remittance and payments services
Paytrix, the London-headquartered fintech that simplifies global payments for high-growth businesses, has obtained a Payments Institution Licence in the UK, a significant milestone as it builds out its regulated global payments solution. After securing the licence, Paytrix is now authorised to provide UK businesses with foreign exchange, remittance and local payment services.
For fast-growth businesses looking to expand beyond their home market, dealing with convoluted, poorly connected and expensive international payments systems presents a sizeable challenge. Businesses with international ambitions are left with no option but to stitch together a patchwork of payment service providers.
Paytrix's curated payments solution solves these difficulties by providing access to the best payment products around the world through one platform, one contract and one API.
Aran Brown, Paytrix CEO, said, "Achieving a gold standard in compliance and licensing across the whole business, from technology to banking partners, is core to the Paytrix vision. Our compliance-first approach, combined with the deep, technical expertise of our team, gives customers and prospects the confidence they need when it comes to moving money around the globe. Acquiring the Payments Institution Licence is the first tick on our regulatory roadmap as we build out our global payments solution."
The Payments Institution Licence enables Paytrix to sit in the flow of funds which offers a number of benefits to customers and the business. For customers, working within the flow of funds gives them greater control and enables them to optimise the user experience from a commercial and operational perspective.
With alternative third-party payment platforms, the instigating business can be three or four times removed from the process which introduces costs, complexity and can sow doubt in the minds of potential buyers — for instance, by transferring them to unfamiliar third-party payment screens. Research reveals a lack of trust in the website is behind one in six abandoned online checkouts.
From Paytrix' perspective, sitting in the flow of funds is an essential requirement for its vision of a global, seamless, secure payment experience. Furthermore, Paytrix and its customers will be able to benefit from economies of scale as payment volumes grow.
After securing the UK licence, Paytrix' plans to target further licences across the European Union.
Brown elaborated on Paytrix' plans for securing regulatory approvals: "Paytrix is starting with the UK and EU. There are thousands of opportunities in these regions alone that can benefit from the infrastructure that Paytrix can offer. Beyond that, the focus is not only on enabling European platforms to expand globally but also on becoming a global curation layer for any business — that includes facilitating expansion into Europe for an APAC or LATAM."