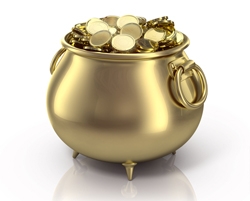 Two of Britain's fastest growing fintechs are going after a huge pot of money: pensions
Fast-growing online investment startups Moneyfarm and Scalable Capital are both planning to launch pension products later this year, hoping that accessing the huge UK retirement market could super-charge their growth.

Moneyfarm announced plans to launch a pension product later this year when it announced its full year results on Friday.

Those results show that the startup, which launched in Italy in 2012 and the UK last year, currently has £260 million in assets under management. It offers personal investment and ISA products.

Paolo Galvani, Moneyfarm's cofounder and chairman, told Business Insider: "We will launch a UK pension product in the fourth quarter and next year Italy. For the next few months, we're very focused on this.

"Twenty five-30% of the overall savings and investment in the UK are driven by the pension, and rightly so. The pension gap in the UK is the worst in Europe."

Simon Miller, Scalable Capital's UK cofounder and COO, told Business Insider separately that his startup also has plans to launch its own pension investment product later this year.

Miller said: "It's a huge portion of UK wealth. Overall, with pension freedoms, changes that have happened in the last couple of years, with auto-enrolment coming up — I just think the pension topic for the UK public has become a bigger and bigger one. More people are taking control of their retirement and their pension. That's why we see an opportunity there."

Like Moneyfarm, Scalable Capital is a so-called "robo-advisor" — a digital wealth manager. Scalable uses complex algorithms to automatically adjust investor portfolios based on risk. Founded in 2014, Scalable has €300 million of assets under management across the UK and Germany.
To read more, please click on the link below…
Source: Two of Britain's fastest growing fintech are going after a huge pot of money: pensions – Yahoo!Finance