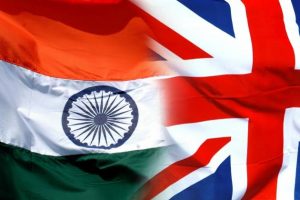 UK looks to strengthen FinTech ties with India
A UK envoy that includes politicians, central bank officials, and prominent FinTech executives are in India to discuss trade relations that will deepen industry ties between the two nations as the UK prepares for the separation from the European Union.

A UK-delegation led by Chancellor Philip Hammond that includes Her Majesty's Treasury FinTech envoy Eileen Burbidge and Bank of England governor Mark Carney along with a number of leaders from banking and financial technology firms are currently in India as a part of a two-day visit as a part of the 9th UK-India Economic and Financial Dialogue (EFD).

Hosted by Arun Jaitley, India's finance minister, the trade envoy will see the visitors engage in dialogue alongside participating in a series of events in India's capital New Delhi and the country's financial capital, Mumbai.

India – Former Colony, Now Partner

Having gained independence from colonial British rule in 1947, India is now among the world's fastest growing economies and plays a strong role in trade and investments into the United Kingdom, as the UK does with India.

"As we prepare to leave the European Union, it is more important than ever that we strengthen our relationship with India, one of the world's leading economies and one of our oldest friends and allies," stated Chancellor Philip Hammond.

Notably, India is among the leading global investors in the UK, with the Chancellor revealing over 7,000 new jobs created in 2016 making it the second biggest job creator in the United Kingdom.

Greg Clark, UK secretary for business, energy and industrial strategy further underlined the point, stating:

"India invests more in the UK than in the rest of the EU combined, while the UK is the biggest G20 investor in India."

FinTech Gains

In Mumbai today, the Chancellor met Indian FinTech startups while giving a speech at the UK-India FinTech conference.

Her Majesty Treasury's special FinTech Envoy Eileen Burbidge pointed to notable developments in the space with increased collaboration between the UK and Indian FinTech sectors. The joint-effort will possibly regulatory cooperation, making it easier for information sharing of financial technology companies in each other's markets.

The UK government's announcement also points to a number of commercial financial technology deals among companies in the UK and India. One of them notably includes a UK-India FinTech exchange program installed by banking giant Barclays.
To read more, please click on the link below…
Source: UK Looks to Strengthen FinTech Ties with India – CryptoCoinsNews