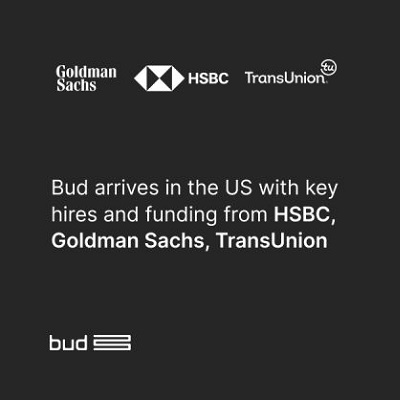 UK fintech Bud expands into the US with key hires and funding from HSBC, Goldman Sachs and TransUnion
UK fintech Bud, a leader in Open Banking and transactional data intelligence, has announced its expansion into the United States.
Bud's entry into the US market coincides with high demand for innovative products to shake up the $20 trillion banking industry. Backed by HSBC, Goldman Sachs, and TransUnion, Bud has already hired its go-to-market team to meet ample market demand. The launch follows TransUnion's strategic investment announced in February.
Headquartered in London, UK, Bud has been helping clients turn complicated financial data into products that accelerate growth since 2015. Clients use Bud's platform to enhance their customer onboarding experience and personal financial management services, in order to boost engagement and increase loyalty. Bud's aggregation and categorization capabilities power lending through income and employment verification, ongoing transaction monitoring, and creditworthiness assessments — connecting people to financial products and services that improve their lives. Clients leverage Bud's cash flow analytics to make faster, more informed decisions that can result in increased revenues and reduced losses.
"We are thrilled to bring Bud to the US," said Edward Maslaveckas, CEO of Bud. "The US shows growing interest in open banking, and many Americans are wondering how they can use transactional data in their businesses. Bud's Transactional AI is the first of its kind, offering lenders a highly accurate picture of their customers' income, expenses, and creditworthiness in real-time. Lenders can approve more loans, assess risk confidently and recommend the right products at the right time. We can't wait to bring our Transactional AI to customer-focused lenders in the US and North America."
Bud's North American operation launches with a newly appointed leadership team, bringing experience from across the US fintech landscape to oversee its expansion.
"Assessing creditworthiness has always been a challenge for lenders of all sizes in the financial services industry. Having spent almost twenty years in the field, I have seen this firsthand," explains Kyle Ray, EVP Bud North America. "But the solution is here and now: Bud's real-time transactional insights. Our Transactional AI not only enables lenders to make informed lending decisions faster, but it also drives customer lifetime value by fueling personalized services. With this innovative platform, both lenders and borrowers can benefit. I couldn't be more excited to lead Bud's US go-to-market with an incredible team."
Bud has achieved great success in the UK, achieving a leadership position in open banking with customers including HSBC, CreditKarma, and ANZ.